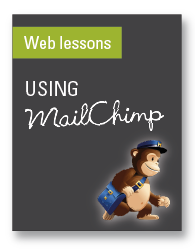 Here at Greengraphics we love and recommend Mailchimp. However, before you get too carried away, there's a few things to know. We can't control Mailchimp. They are an independent company and they can choose to change their systems or even wipe everything you have for no reason. Unfortunately, we have had – more than once – Mailchimp completely wiping some of our clients systems. Yep, everything – all data, all sent campaigns, even the entire database of subscribers.
Mailchimp is able to do what they like and they will have something in their fine-print about their ability to completely wipe your data at their whim. It sounds scary, and it is. Greengraphics can't protect your data via Mailchimp – we're completely independent to them. But the best you can do is:
Take control of your own Mailchimp. Learn how to login and use it.
Login as often as you can to your own Mailchimp system.
Check for any email warnings from Mailchimp if they're about to wipe your system (you can't count on this but they really should warn you at least).
BACKUP your data. Particularly your subscriber list. It's not safe on the web, and it's (unfortunately) not safe with Mailchimp. You should export this data and keep a copy somewhere. You can do this daily, monthly, yearly – as often as you like, but please make sure you do. It's your data. Look after it!
So, having said all that scary stuff, here's how to use it. It's pretty easy! This is just the basics of making a new 'campaign'. There's lots of other things you'll need to know about Mailchimp. It's best to look at their lessons here.
Login with your email and password combination!
Now you'll be at your 'Dashboard', where you can see your latest subscribes/unsubscribes and information about your recent 'campaigns'.
Campaign = just a fancy name for each time you send an email to your list (or one of your lists).
List = you may have one or more list.
Master List = send to everyone.
To send a new 'Campaign' DON'T CLICK ON CREATE CAMPAIGN..!! Click 'Campaigns' from the main menu instead.
Find a previous campaign that will serve as a good template for your new message.
Click 'replicate' underneath the campaign name.
Follow the FIVE STEPS to send your campaign.
Step 1
Recipients (select who you want to send the campaign to – might always be the same group).
Step 2
Name your campaign and set the 'message subject'.
Step 3
Edit HTML email – remember to edit/create appropriate links.
Step 4
IMPORTANT. Always tick 'Copy text from HTML'
Step 5
Campaign summary. Check through details and always send a test message to yourself! (Click 'send test'.)
Once you're satisfied that all looks good, click 'send now' or 'schedule delivery' for a later time/date. Images = make sure any images you add are sized for the web. If unsure, please ask us.
Links = make sure any links are done properly and please TEST them!
Again, this is just the basics of sending a campaign. For everything else, please take a look at their lessons here.
< Back to Lessons