These are the super simple first steps in WordPress.
Please note we always customise sites, so your site may be slightly different to these WordPress 101 lessons. We can always prepare detailed instructions for you so just let us know anytime!
Go to your login page (which we will have sent you).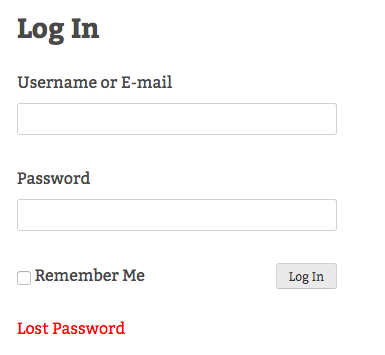 Login with your username (or email address) and your password (as supplied).
Note that you can reset your password at any stage using the 'lost password' link from the login page. This will send you an email with further instructions.
Ok, once you're logged in you'll (normally!) be taken straight to the 'Dashboard' of the site.
You can see 'Dashboard' in the top left of your screen. From here, you can always roll over to the 'live' site, by hovering over and clicking 'View site'.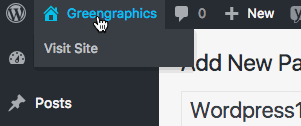 Once you're logged in, and viewing the 'live site' you should see an 'admin toolbar'. This allows you to edit pages directly by clicking on the 'edit page' link. Have a go!
You can also add new pages, posts or media straight from your toolbar.

Or go back to your Dashboard and hover over Pages or Posts and click 'Add New'.
What You See Is What You Get… Not Quite.
Once you are editing a page you will see a nice WYSIKOCTWYG (What You See Is Kind Of Close To What You Get) Editor. There's a bunch of ways we try to make web editing easy for you, and every single site is a little different in terms of what works and what you need.
So you might have Elementor setup. We will have shown you this, but you can find heaps of tutorials online about Elementor and it's always getting improved and updated.
Otherwise you might have the Block system of WordPress. See here for more info.
Or you might be using the old 'Classic' WordPress editor (which does still have its advantages). If that's the case you just type in your changes and then hit the big blue 'Update' button on the right of your screen.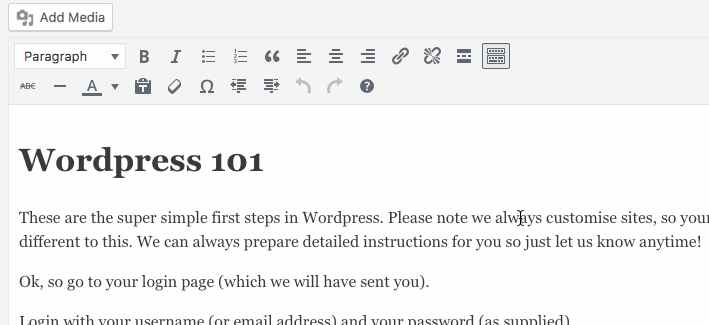 Either way, you just need to hit 'Update' on the page you are editing (using any of these systems) and WHAMMO once you've done this your changes are LIVE to the world. So well done. You're now a webmaster. Or webmistress if you prefer.